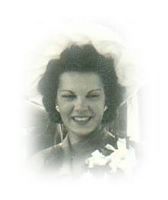 Momma/ Jeanine

This is a tribute for Mother's Day of my Mother, Jeanine Potulski, who passed away January 1972. She was a beautiful woman, as a bride, (as shown in this picture) and all through her short life, of 45 years. She loved life, and was kind to everyone that knew her. Being a orphan at the age of 7 she endured and evenually married my father in 1948.
She was excited when my first daughter was born, and being an knitter and artist, she make a cloth baby book out of soft felt, it showed animals, and colorful pictures. She knitted a beautiful sweater for her granddaughter's first day of school, in bright blue with little white angora kittens playing with a ball of yarn, which my daughter and her sister both wore for the first day of school. She made this sweater before my daughter was 1 year old.
My Mother worked as a waitress on and off through the years, and everyone she worked with adored her. I tried as a young adult to help her one day as a waitress, for lunch at a bowling alley bar and resteraunt . I was totally lost in getting the orders and change right. She ran circles around me!
I admired her talents and at a young age and I tried to draw and paint as well as she did. When I was young we had a parakeet, my mother saved many of the feathers the bird would shed during the year. She actually made a picture of the bird with those feathers, gluing each, until it actually looked just like the bird. She colored in the eyes and beak. It was beautiful.
Mom was always there, making my breakfast in the morning before sending me to school, and at lunch time making me wonderful lunches, while I watched the Soupy Sales show. She was always there for me. Did you watch him in the the mid 50's in Detroit?
Mom taught me to knit and crochet and we would make pretty table scarfs out of crochet yarn. She even taught me to embroider printed dresser scarfs and pillow cases. We made dozens of them for our home.
Mom even tried to learn to ride my bike. She never had one as a kid, and she never did learn to balance properly. She did ride a bicycle built for two with Dad on one of our vacations to Mackinaw Island one year.
Mom died in January 1972, from a year long fight with ovarian cancer. This was just days after I had my second daughter. I did show her a poloroid pic of my baby at the hospital. I miss her so much, and I wish my daughters and my wonderful grandchildren were able to know this wonderful woman. I know she's watching from above in heaven, but it would be great to have seen her joy at knowing them.